Autolaunch Area Optimiser
The free download is here. Free to download, free to use.
All construction materials like steel, aluminium, plywood, glass, chipboard and indeed almost anything, are generally only available in a limited number of standard stock sheet sizes. Typically a fabricator will buy standard sheet sizes of various materials which are then cut into smaller panes for the next fabrication process. To reduce the cost of wasted raw materials, it's necessary to produce an optimum cutting route plan, which minimises wastage. This can be a rather awkward and a potentially wasteful process if attempted manually. (Not to mention, exceedingly difficult!) And even when the buying process has been manually calculated, the method of cutting the panes and parts identification still needs to be firmly "pinned to the mast", to ensure the factory uses the same route plan when the sheets are actually cut.
The Autolaunch Area Optimiser solves this problem, being a simple to use stand alone optimiser (nesting program). It's useful even if you have full cad-cam systems for those oddball parts of production that your existing computer software doesn't yet deal with.
Accurate nesting can be a complex calculation when manually undertaken. Why not let the Autolaunch Area Optimiser take the strain. And even better, it's fully functioning software that is absolutely free- no catch - no gimmick - no registration fee - no lets buy the next version!
Why is the Autolaunch Area Optimiser Free?
It is a rather specialist type of software that can never sell in volume, hence it's 1997 unit price of £750, would be a very big ask to the casual user!! It was released in 1997 but has now found a new lease of life. Now that the Autolaunch Area Optimiser is available with an in built DOS emulator (Jos Schaars excellent Vdos), It is simple to download, install and run, without any of the tricky settings traditionally associated with DOS programs. It even prints directly to your default Windows Printer!
Let's look at the upside
Stand alone independent optimiser without the complexity and extra setup and difficulties encountered to integrate into other systems

Consider up to five different stock sheet sizes in a single action.

Quick easy on screen wastage percentages. Know your wastage before you start.

Blisteringly quick, final results in under one second on screen.

No more printing followed by an error report. The Autolaunch Area Optimiser includes full validation of all dimensions as they are entered, it's a live test. You cannot ask the software to cut something 5 metres long in one dimension if the sheet is 4 x 2 metres. Obvious yes, though it's surprising how many programs only look for logical errors when it is really too late.

Excellent speed even on old computers.

Easy to read cutting report picture identifying individual components

Ident marker (P1, P2....) carried to cutting diagram.

No need to save job files, it's automatic.

Oh, by the way, it's free, no gimmicks
Let's take a look at a typical cutting job input screen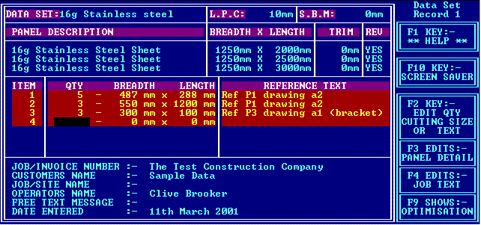 Everything entered for this cutting job is shown on the one screen. Including, loss per cut, sheet trim from nominal size, if panes reversible, multiple stock sizes and of course, panes to cut and reference text. No setup calculations hidden away anywhere else. What's more, all of this can be edited anytime.
Now, press F9 and within a second, the report below will be on screen.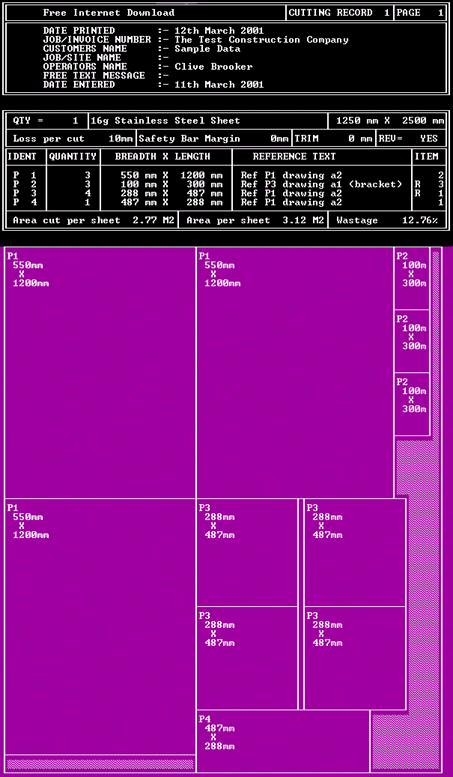 The black area above, shows all of the cutting information that you have keyed into the program to cut this one sheet. Generally, several of these would be produced for a group of panels to be cut. In addition to this list, there is a material summary sheet which details everything that was keyed in for the item, allowing the opportunity to check that the job is correct before being issued to the factory.
The printed version is identical to the sample shown here.
The magenta band shows the cutting diagram with identification references.
The Autolaunch Area Optimiser stores up to 100 different sized panes per product and allows up to 5 stock sheet sizes to be considered at once. Up to 17 different products allowed per job and finally up to 20 different jobs are all automatically saved. New sub directories (folders) can be added to expand this limitlessly.
If this looks useful then please download the program for free. If you do find the software useful, then your feed back through the Contact Us button would be appreciated. Oh finally, please leave the destination folder as C:\areaopt, it makes life easier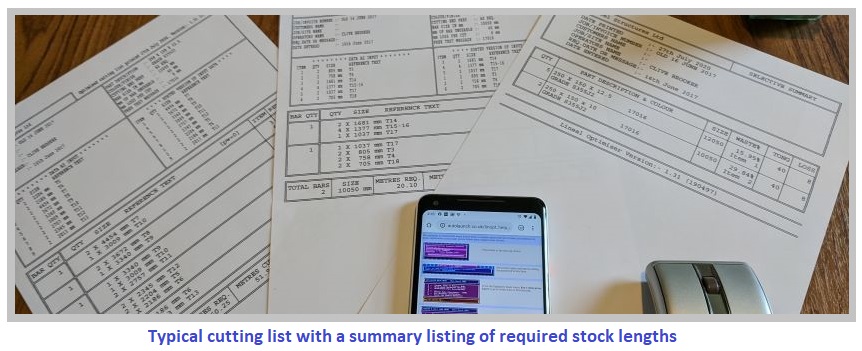 There are two download options dependent upon your PC. Please make sure that you use the correct one.
Download for computers with Windows 7, 8, 8.1 or 10

Autolaunch Area Optimiser

This is the preferred option with Jos Schaars Vdos. It works "straight out of the box", printing to your default Windows printer. No fiddly bits to worry about!

Please click on the Downloaded file to start the Windows Installer.

This installation process will add an icon to your desktop, (Area) as well as a menu item to Start - Programs (Vdos). This software program can be uninstalled from Add/Remove programs.