Autolaunch Lineal Optimiser
The free download is here. Free to download, free to use.
All construction materials like steel, aluminium, wood, PVCu and indeed almost anything, are generally only available in a limited number of standard stock lengths. Typically a fabricator will buy stock lengths of various materials which are then cut into smaller pieces for the next fabrication process. To reduce the cost of wasted raw materials, it's necessary to produce an optimum cutting route plan, which minimises wastage. This can be a rather awkward and potentially wasteful process if attempted manually. And even when the buying process has been manually calculated, the method of cutting and parts identification still needs to be firmly pinned to the mast, to ensure the factory uses the same route plan when the goods are actually cut.
The Autolaunch Lineal Optimiser solves this problem, being a simple to use stand alone optimiser. It's useful even if you have full cad-cam systems for those oddball parts of production that your existing computer software doesn't yet deal with.
Accurate nesting can be a complex calculation when manually undertaken. Why not let the Autolaunch Lineal Optimiser take the strain. And even better, it's fully functioning software that is absolutely free- no catch - no gimmick - no registration fee - no lets buy the next version. Like Freehostia who host this web site, it is absolutely free with no gimmicks.
Why is the Autolaunch Lineal Optimiser Free?
It is a rather specialist type of software that can never sell in volume, hence it's 1997 unit price of £150, would be a very big ask to the casual user!! It was released in 1997 but has now found a new lease of life. Now that the Autolaunch Lineal Optimiser is available with an in built DOS emulator (Jos Schaars excellent Vdos), It is simple to download, install and run, without any of the tricky settings traditionally associated with DOS programs. It even prints directly to your default Windows Printer!
Let's look at the upside
Stand alone independent optimiser without the complexity and extra setup and difficulties encountered to integrate into other systems.

Consider different stock lengths at the press of a few keys, reducing costs at a stroke.

Quick easy on screen wastage percentages. Save money now.

Blisteringly quick, final results in under one second on screen.

No more printing followed by an error report. The Autolaunch Lineal Optimiser includes full validation of all dimensions as they are entered, it's a live test. You cannot ask the software to cut a 5 metre cut from a 4 metre stock length. Obvious yes, though it's surprising how many programs only look for logical errors when it is really too late.

Excellent speed even on old computers.

Easy to read cutting reports identifying individual components.

Different cutting angles in the same optimisation by way of reference tags.

No need to save job files, it's automatic.

Oh, by the way, it really is free, no gimmicks!
Lets take a look at a typical cutting job input screen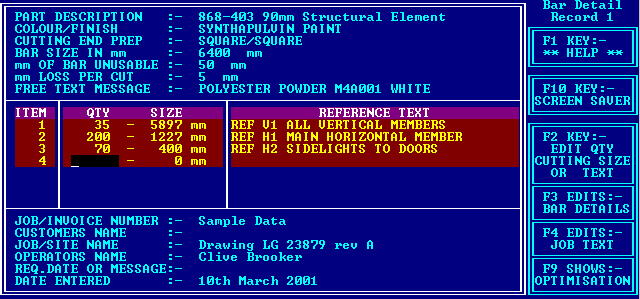 Everything entered for this cutting job is shown on the one screen. No setup calculations hidden away anywhere else. What's more, all of this can be edited anytime.
Once you have entered everything that you want to cut, press F9 and immediately, the report below will be on your screen.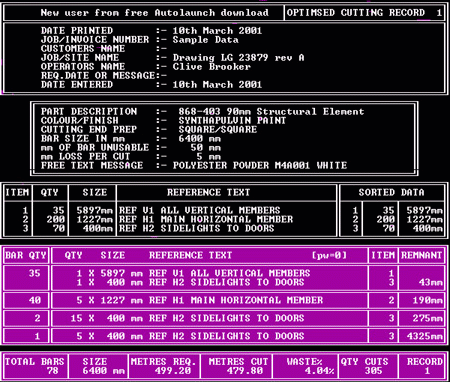 The black area shows all of the cutting information that you have keyed into the program. The printed version is very similar giving you a last minute opportunity to check that the job is correct.
The first magenta band shows how to cut the bars, identification reference, and real remnants.
The bottom band is the stock summary
The Autolaunch Lineal Optimiser stores up to 100 different sizes to cut. Up to 17 different bars to cut per job and finally 20 different jobs. New sub directories (folders) can be added to expand this limitlessly.
If this looks useful then please download the program for free. If you do find the software useful then your feed back through the contact us button would be appreciated.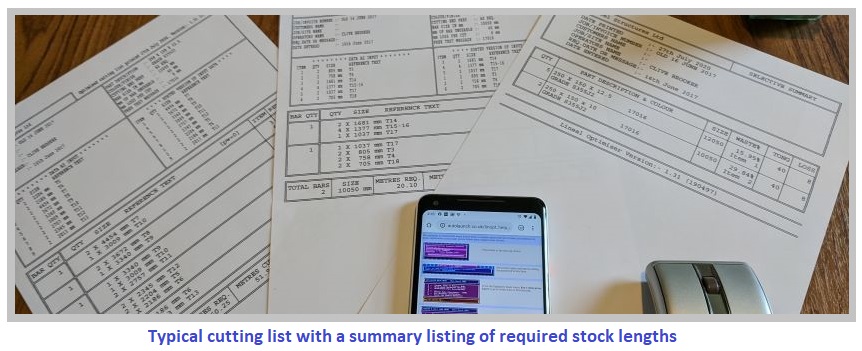 There are two download options dependent upon your PC. Please make sure that you use the correct one.
Download for computers with Windows 7, 8, 8.1 or 10

Autolaunch Lineal Optimiser

This is the preferred option with Jos Schaars Vdos. It works "straight out of the box", printing to your default Windows printer. No fiddly bits to worry about!

Please click on the Downloaded file to start the Windows Installer.

This installation process will add an icon to your desktop, (Lin-) as well as a menu item to Start - Programs (vdos). This software program can be uninstalled from Add/Remove programs.
Download for old computers running 32 Bit Windows Vista XP Win 98 Win 95 etc.

Autolaunch Lineal Optimiser

After the download, please click on the Open file to start the Windows Installer. It is best to leave the default installation folder as C:\optimise

Otherwise, the optimiser will prompt for the full path of the file and its sub folder \jobs and sadly lacks a Browse button to simplify this.

This installation process will add an icon to your desktop, as well as a menu item to Start - Programs. This software program can be uninstalled from Add/Remove programs.
| | |
| --- | --- |
| After installation, please visit on-line help | |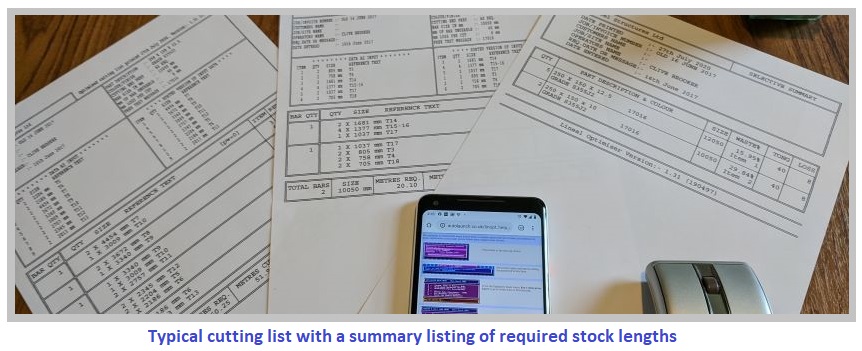 | | |
| --- | --- |
| © Clive Brooker 2001 - 2020 | |